Yes, quartz countertops are heat-resistant, but to a certain extent. It can withstand heat up to 300 degreess Fahrenheit. If you put anything on the quartz countertop that passes heat more than 300 degrees F then it'll certainly damage the countertop.
I've explained the topic in detail throughout this article. Just keep on reading till the end and learn the consequences.
Are Quartz Countertops Heat-resistant?
You can compare quartz with other countertop materials considering the look, but you can't compare in durability. Quartz is an engineered material that combines many natural materials in a modern way.
Usually, quartz countertops are known as heat-resistant, but in reality, they are not. You can not place any hot substance directly on a quartz countertop. It can damage the countertop. But it can resist fire spreads.
What Temperature Can Quartz Countertops Withstand?
Quartz is cured at 180 degrees Fahrenheit during the fabrication process. Quartz countertops are not heat resistant, but they can withstand almost 300 degrees Fahrenheit. If you put anything hotter than 300 degrees Fahrenheit, then the resin in the countertop will change its chemical state.
If you put more than 300 degrees Fahrenheit hot things on the surface directly, then they will get damaged or cause discoloration. But if you apply more heat-resistant sealer on the countertop, then it could withstand more heat.
How to Prevent Heat Damage on Your Quartz Countertop?
There is two way to prevent heat damage on your quartz countertop. Either you have to avoid the heat, or you have to protect your countertop. There are several ways to ensure these. Below I'll be discussing them.
How to Avoid Heat Damage?
You can not stop your countertop from getting damaged by heat, but you can avoid those heat damage just by not doing some staff.
Firstly, don't place any hot things directly on the countertop.
Next, you can use a trivet or cover the countertop with a mat or something that can reduce some heat.
You can seal your countertop or wrap it with a heat-resistant material.
Finally, if you don't want to hide its beauty by wrapping it up, you can just use a glass slab on the countertop.
Can You Put a Hot Cup Of Coffee On Quartz?
Quartz countertops can withstand up to 300° Fahrenheit heat. The temperature of a cup of coffee is between 160-185° Fahrenheit. So, you can put a hot cup of coffee on quartz without hesitating.
But be careful, if you spill the coffee on the countertop, then it can cause a stain on it. If you wipe it in a short time, then it won't stain, but if you let it sit for a long period, then it can cause a stain.
Can You Put a Toaster On a Quartz Countertop?
We know that quartz countertops can't withstand more than 300° Fahrenheit. A toaster can heat up to 1200° Fahrenheit. It is simple you can't put a toaster on a quartz countertop. If you put a toaster on a quartz countertop, then the countertop will get damaged. The resin in the quartz will change its chemical state.
Which is More Heat-resistant Quartz or Granite?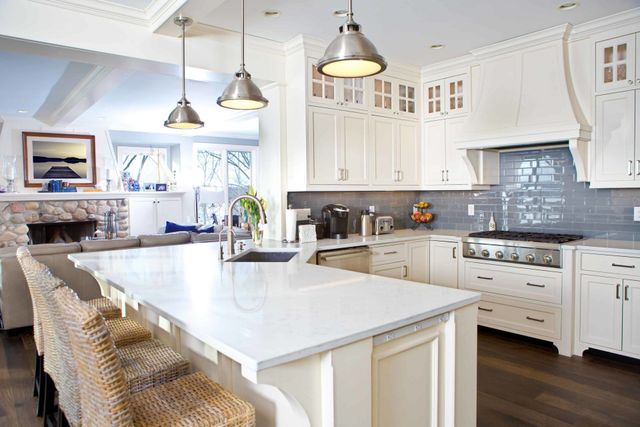 Quartz is an engineered material that is combined with many types of natural stones and resin in a modern way. But on the other hand, granite is a slab of purely natural stone. Quartz is less heat resistant due to its resin. It can only withstand about 300° Fahrenheit, but granite can withstand up to 1650° Fahrenheit.
So it is crystal clear that granite is more heat resistant than quartz countertops. But extra heat can cause discoloration on the surface of any material. It is recommended not to put any hot things directly on the surface of any countertop.
Final Verdict
So, that's all about your query – are quartz countertops heat-resistant? You know the answer now and understand it's heat-resistant but not heatproof. So, It'll be best to remain always on the safe side. You should use heat protection to get long-lasting service from the countertop. I've also added a segment about how you can avoid heat damage and prevent heat damage. Make sure you cover all the topics.
However, to get more ideas, you can check the article – what to put under an air fryer to prevent heat damage.
---
Popular post: