Introduction
How do you grill boneless skinless chicken thighs on a gas grill? Stop worrying and let us tell you how to get it done quickly. Do you know that it is exceedingly delicious and yummy?! Even if you are looking for something nutritious, this is not a wrong choice at all.
This article will guide you through the entire process of cooking the perfect grilled chicken. Keep reading!
Why Choose Boneless Skinless Chicken Thighs?
Grilling boneless chicken thighs is a great choice for family gatherings due to their dark meat, which offers a rich flavor and natural juiciness.
Even when slightly overcooked, they retain their delicious taste and juiciness.
The boneless nature of these thighs makes grilling a breeze, eliminating any concerns about bones interfering with the cooking process and ensuring your chicken is perfectly done.
What Do You Need?
Boneless, Skinless Chicken Thighs
Olive Oil
Brown Sugar
Balsamic Vinegar
Dijon Mustard
Soy Sauce
Dried Oregano
Garlic Powder
Salt
Pepper
How to Remove the Bone from Chicken Thighs
If boneless skinless chicken thighs are not available at the store, you can easily debone them yourself! Follow this guide to learn how:
Lay the chicken thigh on a clean cutting board with the bone side facing up.
Locate the bone running through the center of the thigh.
Using a sharp knife, carefully cut alongside the bone, following its shape. Be cautious not to cut through the meat on the other side.
Gently pull the meat away from the bone as you continue to cut along its length, separating the meat from the bone.
Once the bone is fully exposed, cut it away from the meat at the joint.
After removing the bone, the chicken thigh is now boneless and ready to use in your favorite recipes.
How to grill boneless, skinless chicken thighs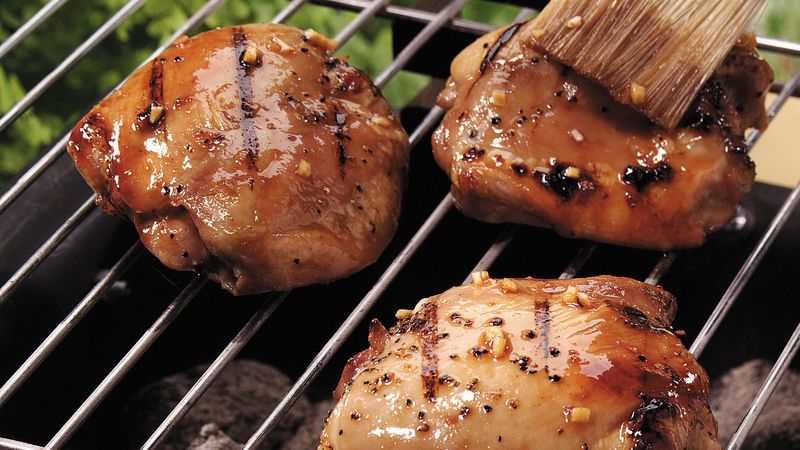 Create the Marinade
Whisk together olive oil, brown sugar, balsamic vinegar, Dijon mustard, soy sauce, dried oregano, garlic powder, salt, and pepper in a small bowl.
Marinate the Chicken
Place the chicken thighs in the marinade, ensuring they are fully coated. For optimal flavor, marinate for at least 30 minutes, but if possible, marinate overnight.
Prepare the Gas Grill
Preheat the grill to medium-high heat. Before placing the chicken on the grill, rub the grill grates with olive oil to prevent sticking.
Grill the Chicken Thighs
Add the marinated chicken to the grill and reduce the heat to medium. Grill each side for 7-10 minutes until the internal temperature of the chicken reaches 165 degrees F.
Serve and Enjoy
Allow the grilled chicken thighs to rest for 5 minutes before serving. Now, they are ready to be enjoyed!
Tips for the Best Grilled Chicken Thighs
Marinating:
For enhanced flavor, marinate the chicken thighs for at least 30 minutes or, even better, marinate them overnight.
Oil the Grates:
To prevent sticking and burning, coat the grill grates with oil before grilling the chicken.
Use a Meat Thermometer:
Ensure the chicken is thoroughly cooked by checking its internal temperature with a meat thermometer. It should reach 165 degrees F to be safe for consumption.
How Long Does It Take to Grill Chicken Thighs?
As for grilling time, it typically takes around 10-12 minutes for the boneless chicken thighs to cook thoroughly. However, keep in mind that the exact timing may vary based on the thickness of the pieces and your grill's specific settings.
If you're uncertain, it's best to use a food thermometer to check for doneness. The internal temperature should reach 165°F (75°C), so be sure to test the thickest part of the meat for accurate results.
| | | |
| --- | --- | --- |
| Prep Time | Cook Time | Total Time |
| 5 minutes | 10 minutes | 15 minutes |
Required Temperature for Grilling Chicken Thighs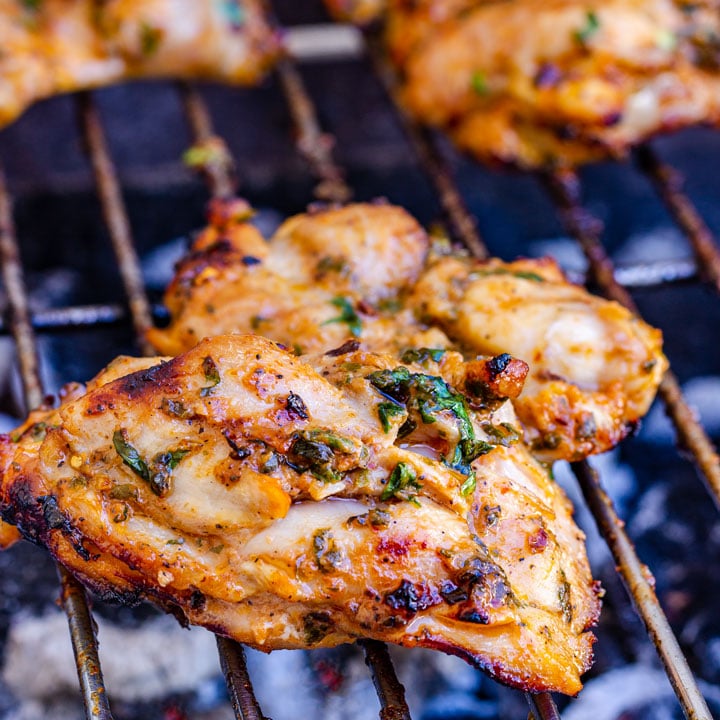 The next question is what should be the temperature for grilling chicken thighs? Well, for boneless chicken thighs, set your gas grill to medium-high heat, which is approximately 400 degrees Fahrenheit. Arrange the chicken thighs on the oiled grates with the skin side down, positioning them over the lit side of the grill. Close the grill lid and cook until the skin becomes crispy and the internal temperature of the chicken reaches 165 degrees Fahrenheit.
How to Avoid Burning While Grilling Chicken Thighs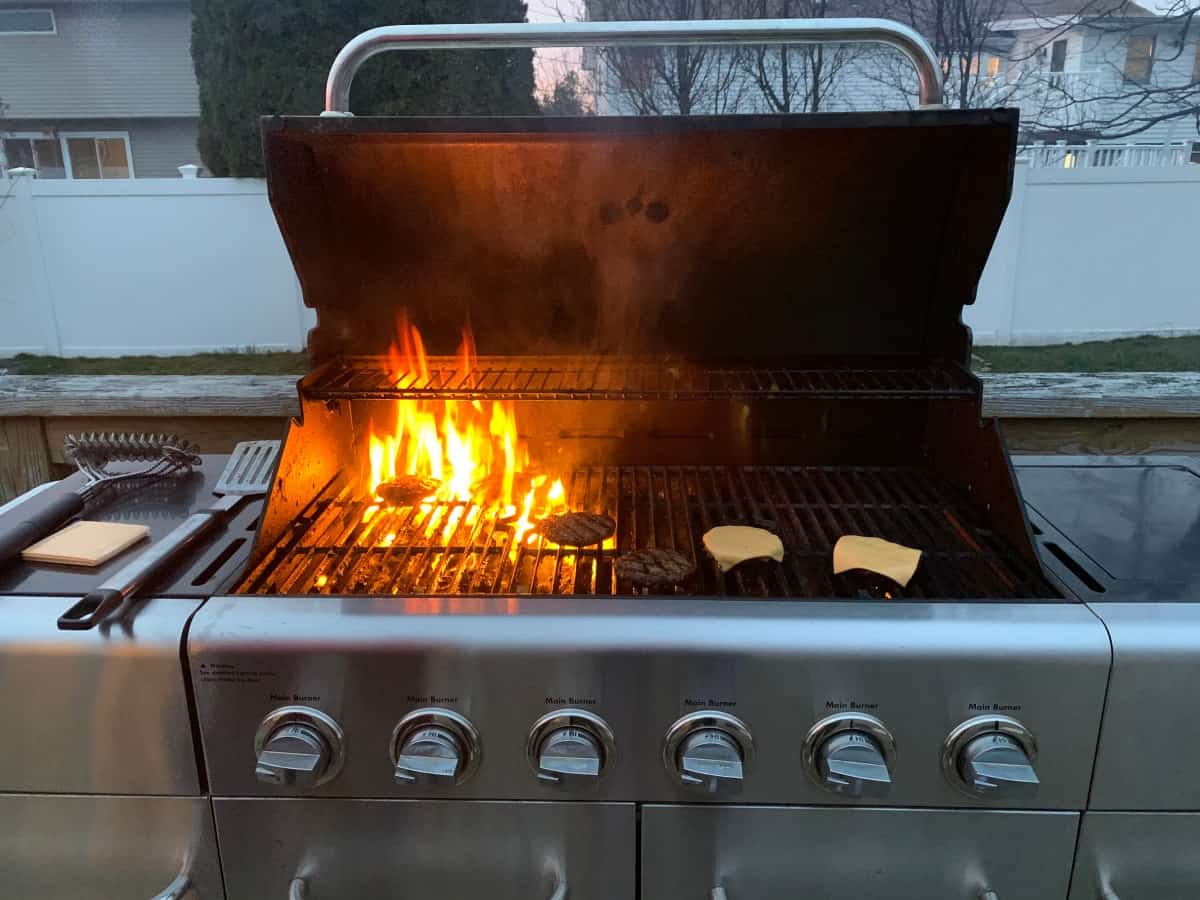 Monitor Closely:
Keep a close eye on the chicken thighs while grilling to prevent burning. This is especially important if your marinade contains ingredients like honey, which can easily lead to burning.
Timing Matters:
Flip the chicken thighs only when they are ready to be turned. If you flip them too early, the skin may tear and start to burn. Patience is key here.
Indirect Heat:
To avoid burning, consider placing the chicken on indirect heat rather than directly over the flames. This allows for more even cooking and reduces the risk of charring.
Stay Vigilant:
Cooking chicken thighs doesn't take long, so stay attentive throughout the grilling process. By doing so, you can ensure they are cooked to perfection without any burning.
How to Store Leftovers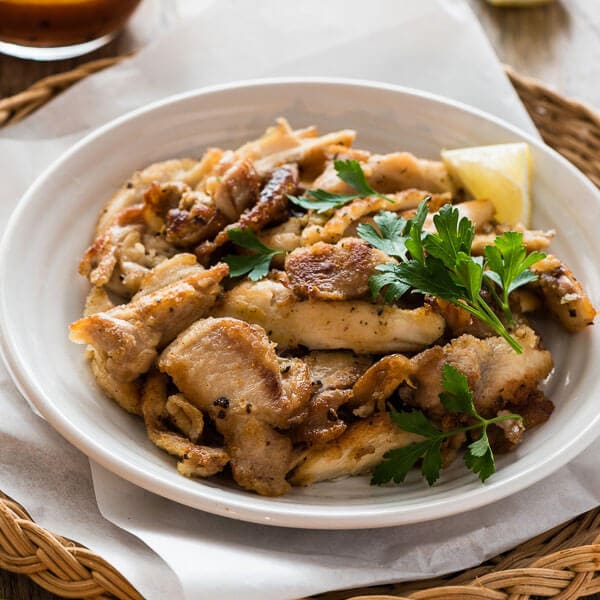 Now we want you to know how you can store the leftovers. To store any leftover chicken, place it in an airtight container and store it in the refrigerator. It can be safely kept for up to 4-5 days, and chicken thighs tend to retain their quality well during storage, making them ideal for a delicious lunch the following day.
For added convenience, consider storing the chicken in individual containers. This makes it easy to prepare a quick lunch or dinner by adding your preferred side dish to the container along with the shredded chicken thighs. When you're ready to enjoy it, simply heat it up in the microwave for a delightful and satisfying meal.
Nutrition Info
Calories 237kcal, Carbohydrates 3g, Protein 30g, Fat 11g, Saturated Fat 2g, Polyunsaturated Fat 2g, Monounsaturated Fat 6g, Trans Fat 1g, Cholesterol 144mg, Sodium 525mg, Potassium 399mg, Fiber 1g, Sugar 2g, Vitamin A 45IU, Vitamin C 1mg, Calcium 25mg, Iron 2mg.
Caution!
Grilled chicken is often regarded as a nutritious option, yet the cooking method can bring about certain hazards. When meat, fish, or poultry is cooked at temperatures exceeding 300 degrees Fahrenheit, it encourages the creation of harmful substances like heterocyclic amines.
Should You Oil Chicken Thighs Before Grilling?
Yes, it is a good idea to oil your chicken thighs before grilling them. Coating the chicken with oil will help prevent them from sticking to the grill grates, making it easier to turn and flip them during cooking. It will also help ensure that the chicken stays moist and tender by locking in the juices.
Oiling Process:
To oil, your chicken thighs, simply brush them with a thin layer of oil using a basting brush or your hands. You can use any type of oil you prefer, such as olive oil, canola oil, or vegetable oil.
Note: Don't use too much oil, as excess oil can cause flare-ups on the grill, resulting in unevenly cooked chicken.
Can You Use Bone-In Chicken Thighs?
Yes, you can definitely use bone-in chicken thighs instead of boneless skinless chicken thighs when grilling on a gas grill. In fact, some people prefer bone-in chicken thighs as they believe that the bone adds flavor and moisture to the meat.
Frequently Asked Questions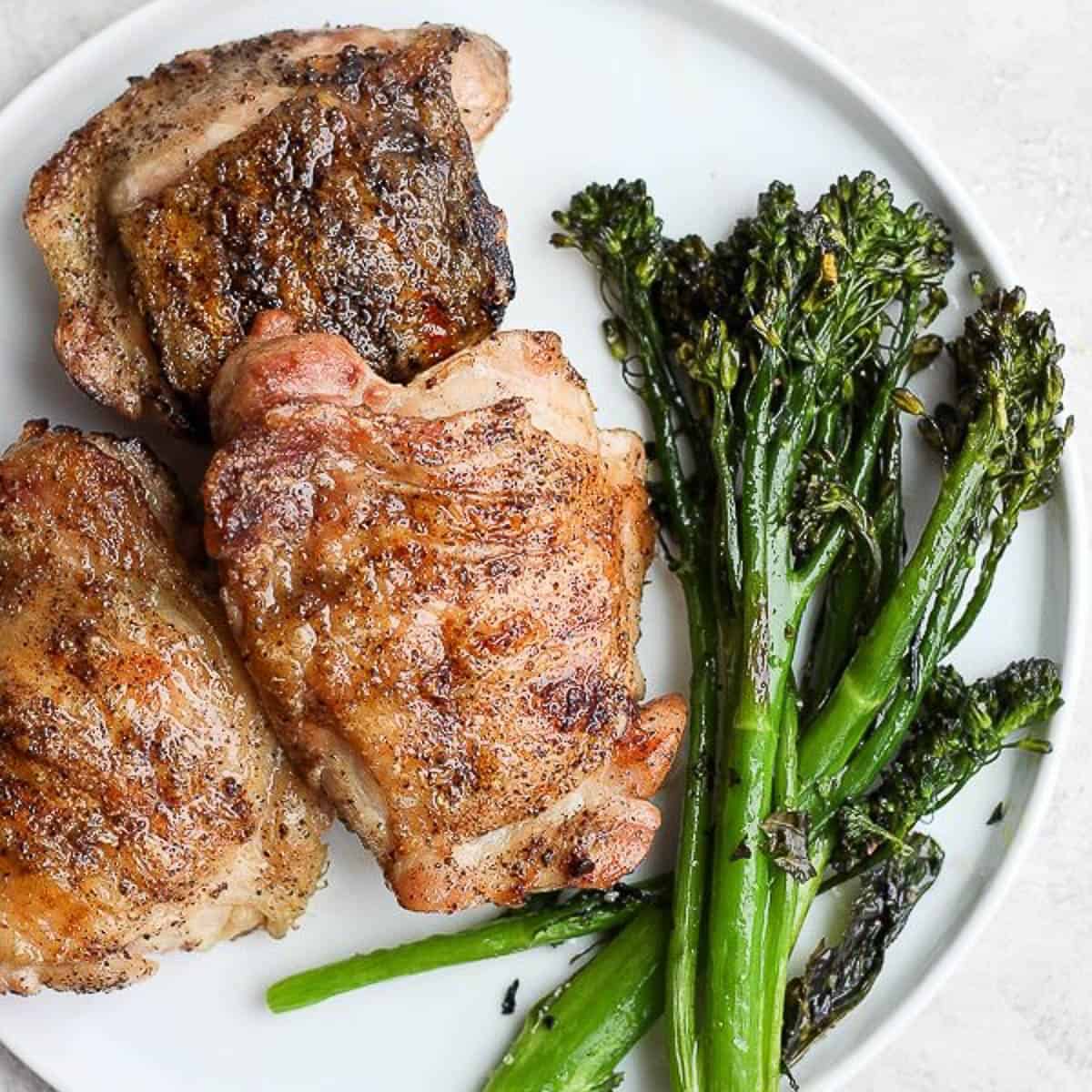 What temperature should I set the gas grill to for grilling boneless skinless chicken thighs?
A1: Preheat your gas grill to medium-high heat, which is typically around 400 degrees Fahrenheit.
How long does it take to grill boneless skinless chicken thighs on a gas grill?
Grilling time may vary depending on the thickness of the chicken thighs. Generally, it takes about 7 to 10 minutes per side to cook the chicken thoroughly.
How do I prevent the chicken thighs from sticking to the grill grates?
To avoid sticking, ensure that you oil the grill grates before placing the chicken thighs on them.
Should I marinate the chicken thighs before grilling, and for how long?
Marinating the chicken thighs enhances their flavor and tenderness. It is recommended to marinate them for at least 30 minutes, and if possible, marinate them overnight for even better results.
How can I tell if the boneless skinless chicken thighs are cooked properly?
To ensure the chicken is fully cooked, use a meat thermometer and check the internal temperature. The chicken is safe to eat when it reaches an internal temperature of 165 degrees Fahrenheit (75 degrees Celsius).
Can I grill the boneless skinless chicken thighs on indirect heat?
Yes, you can use indirect heat to grill the chicken thighs. Placing them on indirect heat helps to prevent burning and ensures even cooking.
What are some recommended side dishes to serve with grilled boneless skinless chicken thighs?
You can serve the chicken thighs with a variety of side dishes, such as Greek Salad, Cucumber Tomato Salad, Parmesan Roasted Potatoes, or Garlic Smashed Potatoes. However, feel free to choose your favorite sides to complement the meal.
Conclusion
By now you must have learned whatever you need to know to be able to grill boneless, skinless chicken thighs on a gas grill. It is not so daunting, right? Just follow our instructions and make the perfect boneless, skinless chicken thighs for yourself and your family. Enjoy!